China Link Trading Co. Ltd.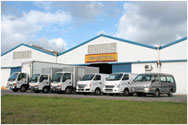 China Link Trading Co. Ltd. is a wholesale and distribution company which was founded in 2001 at the St. Lucia Free Zone. It provided wholesale services to a number of different islands in the Caribbean. In 2004 China Link parted from the Free Zone and refocused on the local market. The Company now distributes a wide variety of goods to supermarkets, convenient stores, restaurants and hotels island-wide. China Link is now the St. Lucian agent for names like Too Tarts, Guzzlers, Tampico from America, Blue Mountain Water, Big Boy Toilet Paper and Napkins among other brands. » Photo Gallery
China Town Inc.
China Town Inc. is a retail store which operates four retail general merchandise stores in the central and southern parts of the island. Its on-trend merchandise at affordable prices launched a new era in discount retailing. This store is attractive, very clean and easy to shop at. It has served as the prototype for every China Town store opened since, and has effectively changed how consumers think about discount shopping.

Where it all starts
Step into any China Town Inc store on the island, and you know exactly what to expect: high quality, stylishly designed goods covering all the basic essentials for your life, displayed in a clean, organized and welcoming environment. The one of a kind experience comes from our department store roots and our ongoing commitment to great prices and tasteful innovations. » Photo Gallery
Ok Supermarket Ltd.

It opened its doors to the St. Lucian Public in June 2007 that added an upscale grocery shopping in Castries. The drive behind our products is the well known brands and
where they are imported, from places such as the United States, Puerto Rico and the Caribbean Region. At Ok Supermarket we provide totally different and unique products from the rest. » Photo Gallery
China Town Food Court Ltd.
We are the first Chinese Restaurant to introduce the buffet style to the St. Lucian public. We also offer in-house, the exquisite Grand Canton Fine Dining experience, with a fully stocked bar upstairs. Our succulent and nutritious meals will leave your taste buds screaming for more, and the service is impeccable. Relax; let us do the cooking for you.
» Photo Gallery